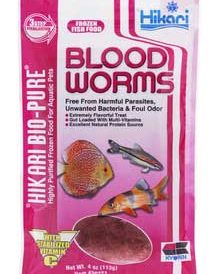 Frozen Fish Foods we stock….
Blood Worm Cubes

Blood Worm Flat Packs

Brine Shrimp Cubes

Brine Shrimp Flat Packs

Baby Brine Shrimp Cubes

Krill Flat Packs

Mysis Shrimp Cubes

LRS Frozen Marine Fish Food

LRS Frozen Herbivore Food
Tip
If you have never fed frozen fish foods to your fish, give it a try. All of the fish in our store prefer the frozen foods over the dry foods. Your fish will have a better feeding response, grow faster and breed better if you feed them frozen foods.